Your Trusted Capital Financing Partner
Our Business
Pac Lease Berhad (Pac Lease) was incorporated as a private limited company on 9 May 1996 and was converted into a public limited company in June 2011. We have been a wholly-owned subsidiary of OCBC Capital (Malaysia) Sdn Bhd since May 2012.
Pac Lease primarily offers hire purchase facilities for the purchase of capital equipment and machinery as well as term loans, bridging loans/development loans, loans for asset financing, working capital and trade financing facilities to SMEs. With our Headquarters in KL and 15 branches across Malaysia, we also offer insurance products, property term loan and other financing facilities.
Our Vision
To be the leader in Capital Equipment Financing (CEF) market in Malaysia.
Our Mission
To become the Centre of Excellence in CEF for OCBC Group.
Corporate Philosophy – Fair dealing
Our success is dependent on our ability to build enduring relationships with our customers and suppliers. This involves treating our customers and suppliers with respect and trust, and consistently dealing with them in a fair and professional manner.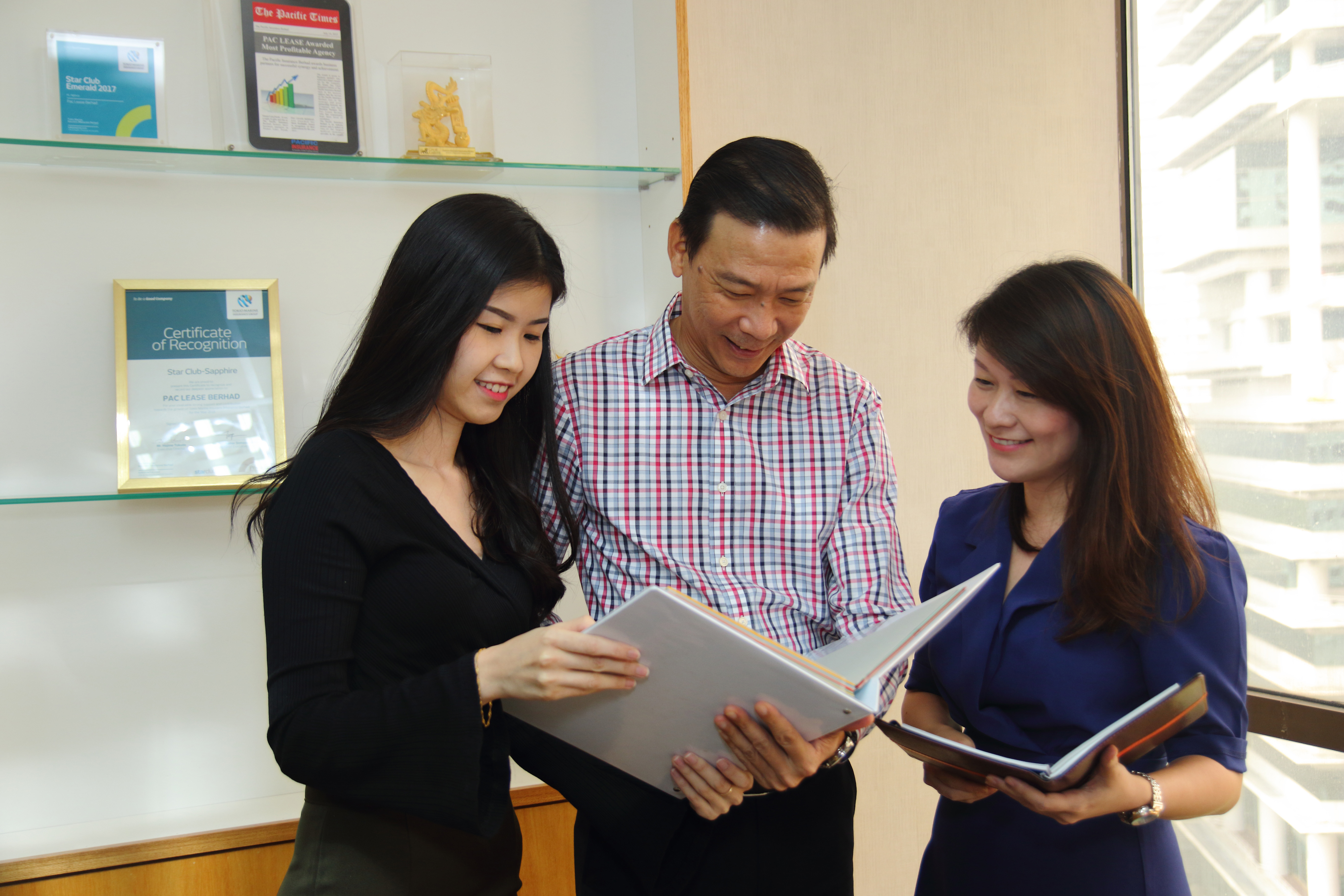 Integrity and Professionalism
We encourage a culture that fosters high standards of ethics, professionalism and integrity. We adopt consistent and fair principles, values and ethics. We believe in fair dealings made in a timely manner. Being trustworthy and committed are our corporate responsibility.

Customer Focus
Customers' needs are our primary focus. We build credibility, trust and rapport to maintain long term and solid relationship with our customers. We reinforce a "Customer First" orientation through leadership and vision.

Result Focus
Our employees are driven to attain a culture of excellence and be results-oriented. We encourage innovations, quality improvement initiatives and value-adding standards.

Teamwork
As a team, we promote "one team, one direction". We share and support one another in achieving our business goals. In addition, we emphasise on a work culture that promotes harmony, cooperation and high team spirit.

Convenient & Flexible

15 Branches Nationwide

Fast Approval

Low Financing Cost

Ease Your Capital Outlay
Company Profile
Company Name
Pac Lease Berhad (386653-K)
Year of Establishment
1996
Registered Address
19th Floor, Menara OCBC, 18, Jalan Tun Perak, 50050 Kuala Lumpur.
Business Addresss
Level 12-13, Menara Haw Par, Jalan Sultan Ismail, 50250 Kuala Lumpur.
Representative
Mr. Chen Kok Bong (CEO)
Financial Year End
31 December
Staff Strength
Approx 200
Nature of Business
Mainly hire purchase
Distribution Network
15 Branches nationwide and KL Office
RAM Rating
AA3/Stable/P1
https://www.ram.com.my/pressrelease/?prviewid=6051
MARC Rating
AA/MARC-1
https://www.marconline.com.my/press/6053890047032